Offices in Hayward, Castro Valley, Concord, & San Jose
What is an Implantable Contact Lens?
The implantable contact lens is also known as a phakic IOL. The word "phakos" is Greek for lens of the eye. "IOL" is an abbreviation which stands for "intraocular lens." An IOL is a lens that is placed inside the eye. The term "phakic IOL" means an artificial lens that is placed permanently inside a the eye to correct nearsightedness and astigmatism without removing the natural lens.
The implantable contact lens is made of a proprietary material called Collamer. It consists of collagen and a similar material contact lenses are made out of. The material has built in UV protection and is biocompatible with the eye for long term vision correction.
Choosing the EVO ICL for Vision Correction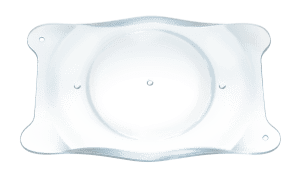 EVO ICLs are designed for nearsighted and nearsighted plus astigmatism for patients who desire reduced dependence or (possibly) elimination of glasses or contact lenses. Patients elect to have the EVO ICL because it does not cause dry eye syndrome and it is an additive technology so no corneal tissue,( the clear front part of your eye), is removed to correct vision. Patients also like the peace of mind that it is removable, so their eye is still their eye. In some cases patients may not be candidates for LASIK due to the anatomy of the eye, but they may be great candidates for the EVO ICL.
Who Would Be a Good Candidate for This Procedure?
Patients who are nearsighted, with or without astigmatism, and/or those patients who have corneas which are abnormal with respect to being too thin, too flat, or irregularly shaped, would likely be good candidates for the EVO ICL.  Also patients considering PRK, but do not want the longer recovery time, might be great candidates for the EVO ICL.
The only way to know if you are a candidate for the EVO ICL is to come in for a consultation with Dr. Mandel.  We will do a complete analysis of your eyes to determine which vision correction procedure is best for you and your vision goals.
What Are the Alternatives to the EVO ICL?
The alternatives to correct high amounts of nearsightedness and astigmatism include:
Glasses, which are the time tested, tried-and-true method with the highest degree of safety.
Contact lenses are also safer than any form of surgery, although there is a small risk of developing a sight-threatening infection and contact lens-related dry eye.
Corneal surgery such as LASIK, PRK, LASEK and EPI-LASIK. However, in patients with high degrees of nearsightedness and astigmatism in combination with a thin or flat cornea, it may be impossible to safely achieve full correction of the nearsightedness and/or the astigmatism with corneal surgery. Additionally, the quality of vision with respect to visual acuity as well as contrast acuity may not be as good in the higher degrees of nearsightedness with LASIK, PRK, LASEK or EPI-LASIK as it is with the EVO ICL procedure.
What Can I Expect During the EVO ICL Procedure?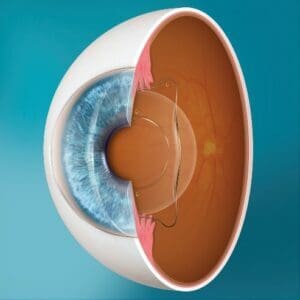 The procedure for the EVO ICL is performed in our Federally certified ambulatory surgery center in Hayward. This ensures that the highest quality surgery is performed in the safest and most controlled setting using our dedicated surgical team. The surgery itself is quick.  Typically, the patient is back in the room for half an hour, but the procedure itself take between 5 to 10 minutes. It is virtually painless and the patient is awake, but relaxed.
After using numbing the eye with drops, a small opening is made where the white meets the colored portion of the eye. Additional tiny openings are made to secure the lens safely into position. The lens is then placed through the opening and positioned in the eye. The patient is then observed post-operatively at the center to ensure that the lens is in proper position and that the pressure in the eye is not elevated.
Most patients experience an immediate improvement in vision that will continue to improve over the next 24 to 48 hours.
What Can I Expect?
The data submitted to the FDA for the STAAR EVO ICL lens was based on the results of a multi-center U.S. clinical trial which included 629 eyes followed for up to 6 months. The data showed patients experienced a significant improvement in distance vision.  On average patients had a -7.62 refraction and by one month most did not have any remaining refraction and it was stable out to 6 months.
In a global survey, 99.4% of patients said they would have the EVO ICL again.  With over 2,000,000 implanted worldwide the technology is both safe and effective.
What If My Best Possible Vision Before Surgery Is Not 20/20?
The FDA studies showed that a small percentage of patients actually enjoyed better vision without glasses than they had with glasses before the procedure. However, one must understand that for most patients the best one can expect is vision without glasses to be the same as the vision with glasses before the procedure. For example, if your glasses vision is 20/50 before the phakic IOL, then the best you can hope for is 20/50 vision without glasses after the EVO ICL.
What Happens If I Do Not Achieve Full Correction of My Nearsightedness and Astigmatism from the EVO ICL?
Although the lens powers are accurate, they are not perfect. Additionally, each individual and each eye heals differently. Accordingly, patients may experience residual nearsightedness, astigmatism, induced astigmatism, or induced farsightedness. Once the eye measurements are stable, which takes a few months following EVO ICL surgery, additional surgery may be required in order to "fine tune" the vision. The additional surgery is not mandatory and "fine tuning" may be achieved with a thin pair of glasses or contact lenses. Depending upon the health of the patient's cornea, residual myopia, induced farsightedness and/or astigmatism can be treated using LASIK, PRK, LASEK or EPI-LASIK. For patients whose corneas are irregular and abnormal, additional corneal surgery may not be possible and further correction with prescription glasses or contact lenses may be necessary.
Does the Lens Ever Need to Be Removed or Replaced?
The lens is designed to last and to stay in position forever. However, in some cases, if the lens is not in the proper position it may be necessary to reposition it.  Most people get a cataract in their lifetime and the EVO ICL will be removed at the same time the cataract is removed and replaced with another IOL where the natural lens use to be.
Are There Potential Risks with This Type of Surgery?
Of course all surgery has potential risks and complications. Although most complications are minor, some can include an increase in eye pressure right after the procedure or some slight halos or glare that tend to disappear or become less noticeable after surgery. Some complications may be sight-threatening such as a retinal detachment, infection inside the eye,bleeding or high pressure inside the eye. In a small percentage of patients, a cataract may form inside the eye as a result of the EVO ICL. In those rare cases, the EVO ICL is removed and the cataract is removed and replaced with a new fresh IOL to restore vision. The FDA study of the EVO ICL demonstrated an extremely low complication rate. If it were an unsafe or dangerous procedure, the FDA would not have approved it!
What Is the Cost of the Procedure?
The exact cost of the procedure depends on a number of factors referable to your eye and your specific needs. The factors which go into determining the cost of the procedure include the use of our Federally certified, State licensed surgery center, the surgeon fee, the cost of the lens implant, all supplies, follow-up for a one-year period, and all post-operative medical and optometric care. If additional laser surgery is required, there is NO additional charge… in our practice…laser touch-up procedures are INCLUDED in the cost of the EVO ICL!  Because of the significant expenses associated with performing this type of surgery, including the number of staff and the surgical setting required, the cost to the patient is more than corneal refractive procedures such as LASIK, PRK, LASEK and EPI-LASIK.
Benefits of the EVO ICL
Delivers sharp, clear vision2
Patients enjoy excellent night vision3
Can correct high levels of myopia (nearsightedness) as well as astigmatism
5 to 10-minute procedure with quick recovery time
Appropriate for patients that cannot have laser vision correction due to thin corneas1
Does not cause dry eyes or worsen symptoms of dry eye syndrome4
Made of Collamer, a biocompatible material that works in harmony with your eye
Gives UV protection
Designed for permanent vision correction but is removable and reversible if ever needed
1 Parkhurst G, Psolka M, Kezirian G. Phakic intraocular lens implantation in United States military warfighters: A retrospective analysis of early clinical outcomes of the EVO ICL. J Refract Surg. 2011;27(7):473-481
2 Igarashi A, Kamiya K, Shimizu K, Komatsu M. Visual Performance after implantable Collamer lens implantation and wavefront-guided laser in situ keratomileusis for high myopia. Am J Opthalmol. 2009.
3 Martinez-Plazs E, Lopez-Miguel A, Lopez-De La Rosa A, et al. Effect of the EVO+ Visian Phakic Implantable Collamer Lens on Visual Performance and Quality of Vision and Life, Am J Ophthalmol 2021;226: 117–125.
4 Ganesh S, Brar S, Pawar A. Matched population comparison of visual outcomes and patient satisfaction between 3 modalities for the correction of low to moderate myopic astigmatism. Clin Ophthalmol. 2017 Jul 3;11:1253-1263.
A Summary Note from Dr. Mandel
You are considering vision correction because you want to get out of glasses and contact lenses, the EVO ICL a safe and effective choice. Alternatively, you have a been told you are not a good candidate for laser vision correction, but because of the condition of your cornea, the above information serves to answer some basic questions regarding the EVO ICL. It is designed to educate you so that you may formulate further questions for me and my staff, and to help you make a decision about undergoing surgery.
As you are aware, your eye is not perfect now and we cannot make the eye perfect. The purpose of the EVO ICL is to help improve your vision such that you are able to wear much thinner glasses or more easily tolerate low-power contact lenses, or (hopefully) enjoy excellent vision without the use of glasses or contact lenses.
No surgeon can guarantee that you will have the result that you desire and/or that you will not incur complications from surgery. What I can guarantee is that I will perform the best possible surgery based on my years of experience as a cataract, cornea, and refractive surgeon. I will inform you of the pros and cons of the procedure, as well as the realistic expectations in your case, and fully delineate in writing the potential risks and complications of the procedure. Fortunately, although complications can and do occur, the FDA studies of the STAAR Surgical EVO ICL Family of lenses, as well as my own personal results, have shown them both to be very effective and to have a very good safety profile — otherwise the FDA would not have approved the lenses.
Schedule Your Consultation Today
Mark R. Mandel MD is a highly experienced surgeon who has treated tens of thousands of patients suffering from nearsightedness and nearsightedness with astigmatism. During a comprehensive consultation at one of his state-of-the-art office locations, he can evaluate your candidacy for the EVO ICL procedure. Contact him today at 877-210-2020 ext. 3 to schedule your appointment today. Dr. Mandel has four convenient office locations in Hayward, San Jose, Castro Valley, and Concord, CA.