Offices in Hayward, Castro Valley, Concord & San Jose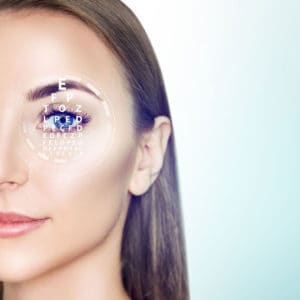 Do you suffer from nearsightedness, farsightedness, or astigmatism? Do you find glasses or contacts cumbersome or uncomfortable, and wish you could reduce the prescription strength or discard them altogether?
If you answered "YES" to either of these questions, you may be a good candidate for LASIK or other vision corrective surgery. Before this decision can be made however, you must have an eligibility exam and consultation.
Dr. Mark Mandel will ask questions about your medical history and perform a thorough eye exam and specialized imaging of the eye designed to determine if the procedure is appropriate for your individual case.
We will also talk about the benefits, risks, available options, and preparation and recovery associated with the surgery to ensure that your goals and expectations are realistic.
Contact us today to schedule your FREE LASIK consultation!
We have four convenient locations in Hayward, Concord, San Jose and Castro Valley, CA.
All Laser LASIK Overview
What is LASIK? LASIK is short for "Laser Assisted In-Situ Keratomileusis." LASIK combines the precision of the excimer laser with all the benefits of a femtosecond laser both of which are sophisticated surgical instruments that Dr. Mark Mandel uses to create a flap in your cornea. This flap is essential, because it provides access for the rest of the surgery.
Once the corneal flap is created, Dr. Mandel directs ultraviolet light energy pulses from the wavefront excimer laser to the cornea's surface. This allows him to reshape the cornea with accuracy of up to 0.25 microns. The excimer laser's pattern can be modified allowing Dr. Mandel to treat nearsightedness, farsightedness, or astigmatism.
After the cornea has been reshaped by the laser, the flap is replaced to its original position. The cornea has incredible natural bonding qualities, which means that no sutures are needed. The LASIK process typically takes less than fifteen minutes from start to finish for both eyes. LASIK is a procedure that has been approved by the FDA since 1995.
LASIK is an FDA approved procedure. The computer controlled, femtosecond laser technology with its unique software provides Dr. Mandel with the highest technology, blade-free approach to creating the corneal flap for laser vision correction surgery.
The results are unparalleled safety for the patient and unprecedented control and accuracy for Dr. Mandel. The patient may simply relax in comfort as the procedure is completed. We are the only laser center in Northern California with two femtosecond laser technologies.
Why Choose Dr. Mandel for LASIK?
We have been performing LASIK since 1996, and as of the winter of 2021, Dr. Mandel had personally performed over 70,000 LASIK and laser vision procedures. In November 1999, LASIK was fully approved by the FDA for myopia up to -14.00 diopters, astigmatism up to 5.00 diopters, and hyperopia up to +6.00 diopters.
LASIK Surgery Expectations
As with all surgery, there is no guarantee of the results of laser vision correction. Although the success and satisfaction rates are extremely high, complications and/or side effects do occur in a small percentage of patients. Additionally, some patients do not have complications or side effects, but are simply not satisfied with the results of surgery.
You are considering these procedures because nature did not give you perfect vision. Similarly, surgeons, surgical equipment and procedures are not perfect. Additionally, individual variations related to healing can decrease the predictability. Thus, we cannot give you a perfect eye.
Our goal is to give you better uncorrected vision (without glasses or contacts) than you presently have. We do not promise results, but we can promise to do the best we possibly can based on our extensive experience, our latest femtosecond and excimer technology, our highly trained staff and our commitment to excellence.