Allegretto Wavelight and VISX S4
Dr. Mandel uses both the Allegretto Wavelight and VISX S4 wavefront and pupil/eye tracking lasers with the latest software and hardware upgrades.
LASIK is performed by Dr. Mandel at Horizon Vision laser surgery centers in Concord, San Jose and Castro Valley.
Traditionally, the excimer laser beam is centered on the eye in a team approach between the patient and the surgeon. Specifically, the patient is coached and encouraged to maintain fixation on a blinking light and the surgeon, using a joystick and subtle manipulations of the patient's head, maintains fixation and centration on the patient's pupil.
Although most patients are concerned that they will be unable to fixate on the light, in reality most people fixate extremely well. However, there are some patients who have a difficult time fixating on the light. Additionally, there are some medical conditions of the eye such as nystagmus, which prevent the patient from fixating.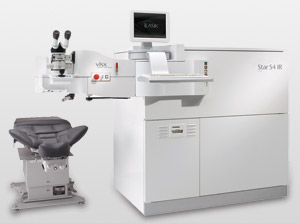 We use the latest technology to ensure your safety by employing only lasers with active tracking mechanisms. We perform surgery at the only laser centers in Northern California to have both the VISX S4 Smooth Scan active tracking laser, and the Allegretto Wavelight laser. Both of these lasers (using slightly different mechanisms) actively track the patient's eye by capturing an image of the eye faster than the laser can fire and faster than one can move the eye. That image is then used to optically "freeze" the position of eye so that the laser fires only at the center of the eye. This is similar to the heads-up display in a fighter jet.
We have been thrilled with the results of both the VISX S4 and the Allegretto laser tracking systems. If, for no other reason, these systems have been very useful in allaying anxiety of patients afraid that they will not be able to "watch the light" during laser treatment.