Dr. Mandel's Video Blog
Clinical Conundrum: What is going on?
Questions?
I saw a couple of interesting cases today that I wanted to share. The fascinating thing about the two cases is that they both had the same condition, but they were at very different stages, so I thought it would be fun to share what I saw.
The first case was a friend of mine from San Francisco. I have been seeing her for many years for this condition. Today, she actually came over as a LASIK candidate as she no longer has the condition, but she wanted me to check for it – which was important. When I examined the eye, there was no evidence of the condition, so we decided that we would proceed with LASIK.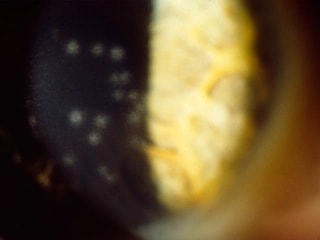 About 10 minutes later, I saw a new patient referred from a colleague in Daly City. This man, in his late 20s, has actually been treated for 10 years for symptoms of a severe recalcitrant dry eye. The optometrist had appropriately been treating the patient not only with tears, but also with low-dose Lotemax, which periodically helped him tremendously. A few years ago, he was sent to a local ophthalmologist who confirmed the diagnosis of dry eye and they have been trying all sorts of additional dry eye medictions, but, overall, the patient is miserable and not getting better. The condition waxes and wanes – sometimes getting better, sometimes worse. I asked the patient to grade his current symptoms on a scale of 1-10. He said "about a 4 or 5". As it turns out, he had a classic condition which was missed by the ophthalmologist, but picked up by the optometrist.
On examination, the cornea did not stain with fluoroscein, but had multiple subepithelial infiltrates throughout the entire cornea. Each of these infiltrates was a slightly different shape and size, and had the appearance of small piles of granulated sugar on a glass table. The infiltrates were bilateral and diffuse, from limbus to limbus. The eye was otherwise quiet, the lids looked good, there were no follicles or papules, and the rest of the cornea was normal. The questions are: 1) What is this? 2) Why is it not getting better? 3) Why does it wax and wane? 4) What is the best way to manage it?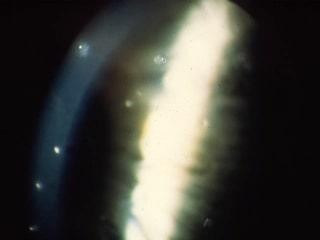 Before we determine what it is, the first question is what could it be. We know that it is not a dry eye. Dry eyes, of course, have many different manifestations including diffuse staining with rose bengal, lysamine green, and fluorescein. Oftentimes, there is excess mucus production, redness, conjunctivochalasis, and occasionally filaments. But subepithelial infiltrates are not associated with a dry eye. Could it be EKC, an adenoviral infection? Unlikely, in that EKC tends to go away after a couple of months, at the most maybe a year, even if treated with steroids. EKC infiltrates are larger and deeper. These infiltrates were just immediately below the epithelium and elevated. In the acute phase, EKC is accompanied by follicles. It was not EKC. The other question is could this be herpes? Herpes is very, very rarely bilateral and does not present with subepithelial infiltrates. The infiltrates in herpes tend to be deeper in the stroma and larger. Could it be herpes zoster? Herpes zoster can present with stromal infiltrates at any time after the condition starts, even 10-15 years later. But again, those tend to be larger infiltrates and deeper. Additionally, zoster is never bilateral.
This condition is Thygeson's. He had classic signs and symptoms of Thygeson's. To review: Thygeson's typically can last 5-10 years. It tends to burn out after 5-7 years, 10 years is really a long time. But it does wax and wane. Patients can go through times of total comfort with no signs or symptoms, and other times have intense photophobia and foreign body sensation. It can recur a couple times a year, or can go away and come back years later. Sometimes it never quite goes to "zero". My friend who I had seen earlier in the day had been bothered by Thygeson's for about 6 years. Now, hers is completely gone on no medication. She uses just artificial tears. Her Thygeson's is effectively completely burned out. I have seen her periodically over the last couple of years and she has had no Thygeson's signs or symptoms.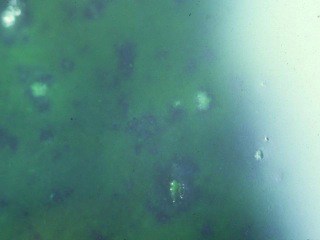 This gentleman had very active symptomatic lesions. He came in on Lotemax and artificial tears. I agreed with the Lotemax treatment and tears for comfort. He was on Lotemax twice a day. I bumped it up to every 2 hours and then we will do a very slow taper – maybe over a 4-6 week period (or longer), always keeping a very close watch on the IOP and whether there is any evidence of a posterior subcapsular cataract. In his case, the pressure was 12mmHg in each eye and his lenses were crystal clear. He has been on Lotemax on and off for almost 10 years and obviously tolerates the Lotemax well.
My therapeutic strategy for him is to increase the Lotemax, treat vigorously, and then very slowly taper it.
Oftentimes, patients will need to be on a low maintenance dose, maybe once a day, maybe Monday-Wednesday-Friday, maybe once a week. The exact schedule depends on each patient's signs and symptoms as everyone is different. If patients become asymptomatic and the clinical signs disappear, we give them a drug holiday and keep them off the drops completely. If the infiltrates recur again, hit it hard and taper very slowly.
I wanted to share these cases with you. I hope that it was helpful. I would like to do a "case of the week", maybe not once a week, but every few weeks. Hopefully you will find it useful in your day to day practice.
Thank you.