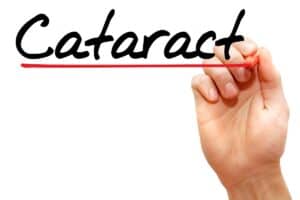 According to the American Academy of Ophthalmology, approximately 25 million Americans have cataracts, which is the clouding of the eye's naturally clear lens. Over time, the clouded vision caused by cataracts worsens and if left untreated, can lead to blindness.
The good news is that cataracts are treatable — and clear, crisp vision is possible with cataract surgery. In honor of Cataract Awareness Month, Bay Area cataract surgeon Mark Mandel, MD, shares five facts to know about cataracts.
Cataracts Occur Gradually
Cataracts occur as a result of proteins in the eye clumping together, clouding a small area of the lens. The clouding that is formed, known as a cataract, becomes larger and denser over time, clouding more of the lens and making it harder to see.
Age Isn't the Only Risk Factor for Cataracts
Cataracts are largely caused by age-related changes in the eyes. But there are other factors that may cause someone to develop cataracts prematurely. These include:
Overexposure to UV light
Health conditions (e.g., diabetes, hypertension)
Obesity
Smoking
Prolonged use of corticosteroid medications
Previous eye surgery
Trauma to eye
Family  history of cataracts
Cataract Surgery Is Safe and Common
While early stages of cataracts can be managed with prescription eyewear, the only way to remove cataracts is through surgical intervention. Surgery becomes necessary when the cataracts have advanced so much that they interfere with everyday activities such as reading and driving.
Surgery may sound intimidating but cataract surgery is extremely safe and common. About 3 million cataract surgeries are performed each year, and more than 95 percent of patients achieve clearer vision after cataracts.
Cataract Surgery Can Do More Than Improve Your Vision
Cataract surgery involves removing the clouded natural lens and replacing it with an artificial intraocular lens (IOL) that works to restore clear vision. But cataract surgery does more than restore vision. Researchers have found that having cataract surgery can reduce the risk of falling and automobile accidents. In addition, one recent study found that cataract surgery may even improve mental function.
Laser-Assisted Cataract Surgery Is Available at Optima Eye
Traditional cataract surgery involves using a handheld surgical blade to create an incision through which to access the eye's natural lens. While this technique is safe, new developments in ophthalmology have made way for laser-assisted cataract surgery. This advanced technique replaces manual instruments with a femtosecond laser to perform critical steps of the cataract removal process. Laser-assisted cataract surgery enhances the precision of many critical steps of cataract surgery.
Laser-assisted cataract surgery is not for everyone. The best way to determine the most appropriate treatment option for you is to schedule a personal consultation with a board- certified cataract surgeon like Dr. Mandel.
If you have been diagnosed with cataracts or suspect that you may have this condition, contact Optima Eye. Book your appointment at one of our four office locations by emailing us or calling 877-210-2020 ext. 3 today.