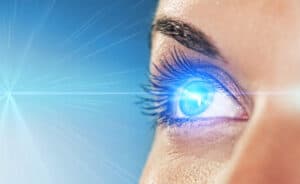 By now, you're aware that wearing sunglasses is important to protect your eyes from the sun and harmful ultraviolet rays. But did you know not all eyes are created equal? Factors such as age and even eye color play a part in how much at risk a person is for UV damage. People with light-colored eyes, including hazel, green or blue eyes, are at higher risk for damage and eye diseases tied to UV exposure.
Unfortunately, not enough people know about this fact. A poll conducted in 2014 by the American Academy of Ophthalmology found that while more than half of Americans surveyed reported having light-colored eyes, only 32 percent of those polled knew that light-colored eyes are associated with a higher risk for sun damage and certain eye diseases. LASIK and cataract surgeon Dr. Mark R. Mandel discusses the risks in greater detail below.
What is UV Damage?
Ultraviolet radiation comes from the sun and artificial sources like welding machines, tanning beds and lasers. Too much exposure to UV radiation can have damaging short-term effects on the skin such as sunburns, and long term effects like wrinkles and sun spots. However, UV radiation can also have harmful short-term and long-term effects on the eyes. Extended exposure to UV rays has been linked to cataracts, macular degeneration and photokeratitis, also known as "eye sunburn," which can cause temporary vision loss.
Eye Color Matters
Lighter-colored eyes have less pigment to protect against sun damage and UV radiation compared to darker-colored eyes. This means that people with green, hazel, or blue eyes are more sensitive to light and more susceptible to UV damage. Overexposure to UV light over time can cause irreversible damage to the eyes and lead to macular degeneration and cataracts, which effect a large percentage of people age 75 and older. People who are exposed to too much UV radiation are also at greater risk for developing rare eye cancers such as iris and uveal melanoma.
Protect Your Eyes
No matter what color your eyes are, the fact remains you have to protect your eyes from the sun. Eye doctors recommend wearing sunglasses year-round, and even in overcast or cloudy weather. Here are some tips to keep in mind when choosing your sunglasses:
Choose wraparound frames
Always wear sunglasses with 100 percent UV radiation protection
Wear a cap or brim hat
Limit your time in the sun
Learn More About UV Light Eye Damage
If you have light eyes and want to learn more about proper eye protection, schedule an appointment with Mark Mandel, MD, at Optima Eye Care. Dr. Mandel will discuss the effects that UV damage can have on light eyes and how to avoid permanent eye damage. Contact our eye care center by calling 877-210-2020 ext. 3 or by emailing us today. Offices located in Hayward, San Jose, Concord, and Castro Valley.