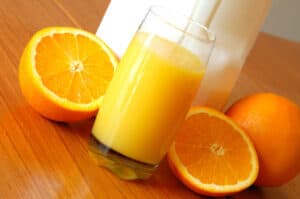 More than 22 million Americans age 40 and older have cataracts, which is the clouding of eye's natural lens. Common symptoms of cataracts include hazy, blurry vision, glare and halos around lights. Although there is no medical cure for cataracts, there are several ways to reduce your risk of developing the condition or if you have it, slow down its progression. According to one study, eating foods rich in vitamin C can cut the risk of cataract progression by a third. Here, cataract surgeon Mark Mandel, MD, discusses the study's findings in detail.
What the Study Found
Researchers at King's College in London looked at data from more than 1,000 pairs of female twins in the United Kingdom. Participants filled out questionnaires on their intake of vitamin C and other nutrients such as vitamin A, vitamin E, manganese and zinc. The severity and progression of each participant's cataracts was documented at the beginning of the study. A follow-up measurement was also performed on 324 pairs of twins 10 years later.
During the first measurement, individuals who ate diets rich in vitamin C had a 20 percent lower risk of cataract progression than those who didn't consume a vitamin C rich diet. After 10 years, researchers found that participants who reported eating more foods high in vitamin C had a 33 percent risk reduction of cataract progression.
"The most important finding was that vitamin C intake from food seemed to protect against cataract progression," said Christopher Hammond, M.D., FRCOphth, professor of ophthalmology at King's College London and the author of the study. "While we cannot totally avoid developing cataracts, we may be able to delay their onset and keep them from worsening significantly by eating a diet rich in vitamin C."
About Cataract Surgery
Although the early stages of cataracts can be managed with prescription eye glasses and contact lenses, advanced stages require surgical removal. Cataract surgery is one of the most common and safest surgeries performed today. The procedure involves removing the cloudy natural lens ( cataract ) and replacing it with an artificial intraocular lens (IOL) to restore crisp, clear vision. Recovery from cataract surgery is short. Most patients notice improvements in their vision soon after surgery and are able to return to work a few days after.
To learn more about cataract surgery, please schedule an appointment with cataract surgeon Dr. Mandel by calling 877-210-2020 ext. 3.