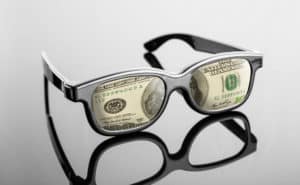 Before making any financial decision, it's always a good idea to do a cost-benefit analysis.
With this in mind, it's a good idea to calculate the return on your investment in health care, including eye care. Here Bay Area LASIK and cornea specialist Mark Mandel, MD explains why getting LASIK will save you money in the long term.
Typical Eye Care Expenses
Seventy-five percent of adults wear some form of corrective lenses; 71 percent of these people wear glasses and 22 percent wear contacts. This means that, at the very least, every two years, the majority of adults get an exam, re-up their prescriptions and then likely buy glasses — though for some that means contacts, too.
A majority of Americans do not have eye insurance. If you count yourself among this group, you pay on average $403 for eye care needs. This includes:
$163 on eye exams
$240 on glasses
For patients whose sight is really poor, eye care professionals often suggest some upgrades, including, on average, an anti-reflective coating for an additional $113 and/or polycarbonate lenses for an extra $57.
So far, your average bi-yearly eye care expense is $573.
Now, add in the cost of contacts if you wear those. On average, the cost for nearsighted contacts is $250 for the year, and $600 for those with an astigmatism. In total, without even factoring in the price of solutions and cases you need for your contacts, you'll spend about $1,073 every two years on eye care. Over the course of your adulthood, you may spend more than $11,000 on your eye care.
Now consider this: on average and for both eyes, LASIK surgery costs $5,700. With more than 97 percent of patients having their vision corrected to 20/20 or better, LASIK clearly comes with a variety of perks — including that of significant savings compared to repeatedly purchasing expensive eyewear.
Bay Area LASIK and cornea specialist Mark Mandel MD and his team of experts would love to meet with you to discuss how LASIK surgery would benefit you. Call 877-210-2020 or visit our site now to learn more or schedule a consultation.