If you are considering laser vision correction, the first step on your journey will be a LASIK consultation. The goal of the appointment is to educate you about your treatment options and collect information so we can determine whether you are a suitable candidate for surgery. In this post cornea and LASIK specialist Mark Mandel, MD, describes what happens during a typical consultation.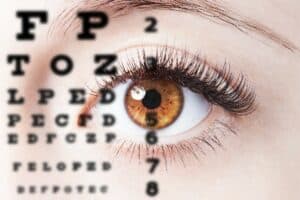 Comprehensive Eye Exam
All laser vision correction consultations involve a thorough eye exam, during which your eye health and vision will be evaluated. A series of diagnostic tests will be performed to look at every aspect of your eyes. Your pupils will be dilated to allow the doctor to examine the inside of your eyes. The front and surface of your eyes will also be looked at. These tests are non-invasive and virtually pain-free. The goal of the tests is to determine whether your eyes are healthy and to rule out problems like dry eye, glaucoma, cataracts and other disorders before you are cleared for surgery.
You may also be asked about your lifestyle, overall health and any history of previous eye problems or surgeries, as this information is extremely pertinent.
Your refractive error will be measured and your eyeglass prescription determined, which will help determine which procedure is right for you. Special measurements will also be taken. During surgery, your cornea, or the clear front surface of your eye, is reshaped with a laser. Because of this, the surgeon needs information about the shape and thickness of your cornea, as well as other topographical details. Wavefront technology is used to identify the unique imperfections of your cornea, so treatment can be tailored to more specifically treat your eye.
Discussion of Surgery Details
Another portion of your consultation will be devoted to explaining laser vision correction. The possible risks and benefits will be reviewed with you; the cost of laser vision correction will also be discussed. You will have an opportunity to ask questions or bring up potential concerns.
At the end of the consultation, we will be able to determine whether you are a suitable candidate for LASIK or another vision correction option, and you will have time to consider your options. When you feel ready, you can move forward with scheduling your treatment.
Book a Consultation with Dr. Mandel
To book a laser vision correction consultation at one of Optima's four locations, please email or call us at 877-210-2020 ext. 3 today.