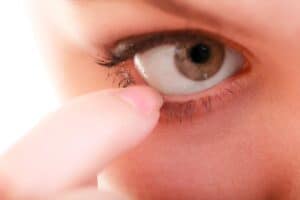 Your eyes are one of your most precious assets, and understandably you want to do everything in your power to keep them safe and healthy. When considering LASIK or another type of laser eye surgery, you might have concerns about the safety of the procedure. Inaccurate information may lead you to second-guess whether LASIK is safer than your current means of vision correction (contacts).
Luckily, Bay Area ophthalmologist, corneal specialist, and laser eye surgeon Mark Mandel, MD, is here to help us understand the long-term safety of LASIK versus contact lenses.
LASIK Safety and Risks
Fortunately, LASIK, which was approved by the FDA over 20 years ago, has an excellent safety track record and has successfully treated millions of patients. Surgery is so safe that the U.S. military has adopted the use of laser eye surgery to help troops who rely on corrective eyewear achieve clearer vision.
Additionally, because the technology has vastly improved over the years, few patients report side effects or complications like glare, halos, starbursts or difficulty with night driving. Infection, serious inflammation or dislocation of the healing corneal flap are exceedingly rare. Dry eye, if thoroughly and properly treated before surgery, is also rare.
Contact Lens Safety and Risks
It may surprise you to learn about the risks of your current method of vision correction. In addition to the inconvenience and limitations of contact lenses, they can also put you at risk of eye infections and other complications that lead to vision loss.
Every time you touch your eye or insert the foreign pieces of plastic into your eye, you risk transmitting harmful bacteria to your eye or injuring your eye. The Centers for Disease Control and Prevention report nearly 1 million doctor visits for eye infections, with contact lens use being the single largest risk factor for infections.
As careful as you might be when handling your contacts, everyone gets lax about contact lens care on occasion. You can dramatically reduce your risk of eye infections and complications by following these guidelines for contact lens use:
Do not expose your contacts to water in the shower or while swimming in a pool or hot tub; never use water to clean or soak your contacts
Wash your contacts in approved solution
Wash your hands before touching your eyes or contacts
Do not sleep in your contacts
Do not reuse contact lens solution
Replace your contact lens case regularly
Replace your lenses as scheduled
Keep all of your appointments with your optometrist
The Bottom Line
When it comes to the safety of your eyes, LASIK is an FDA-approved and safe choice. Yet the decision to undergo LASIK or another type of laser eye surgery should not be taken lightly. It is best to consult with a qualified laser eye surgeon to evaluate your options.