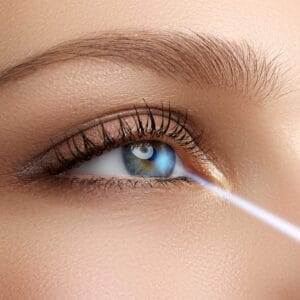 LASIK surgery has many benefits including clearer vision and a decreased dependence on glasses and contact lenses. But despite these benefits, many patients may be hesitant to undergo the laser vision correction procedure because of the cost. In actuality, LASIK can help patients save thousands of dollars in vision-related costs over time. Leading LASIK specialist in the Bay Area, Mark Mandel, MD, explains how in this blog post.
The Cost of Prescription Eyewear
On average, prescription eyeglasses cost about $200. Most people tend to buy two, if not more pairs, in case one breaks or to simply rotate in between pairs. The price of contact lenses varies depending on the type. Research shows that contact lenses that are replaced every two weeks can cost approximately $220 to $260 per year. Daily disposable contacts can cost roughly $480 to $720 per year. Contact lenses that correct astigmatism typically cost more, approximately $500 to $700 a year. Maintenance is also an important factor to take into consideration. For instance, people who wear contact lenses can spend approximately $150 to $200 a year in special cleaning supplies. If you do the math, the life-long prescription eyewear can easily cost you tens of thousands of dollars.
The Cost of LASIK
If you are researching the cost of LASIK, you should understand that there is no clear-cut price estimate on the procedure. The cost of LASIK depends on several factors including the degree of vision correction you need and the surgeon who performs the procedure. On average, LASIK can cost $2,500 to $3,500 per eye. But despite the large upfront cost, many patients we have spoken to find that the benefits of LASIK are well worth the investment. LASIK is a quick and virtually painless procedure that can produce excellent, long-lasting results. Not to mention, the procedure can help you avoid the life-long costs of wearing prescription eyeglasses and contact lenses.
Another upside of LASIK is that you can finance your procedure. Optima Eye offers financing through CareCredit, which allows patients to make affordable monthly payments. Speak to our team today to learn more about financing LASIK with CareCredit.
Are you interested in learning more about LASIK? Schedule a one-on-one appointment with Optima Eye by calling 877-210-2020 ext. 3 today.