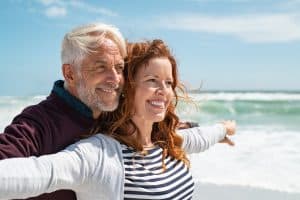 If you have been dreaming of a life independent from glasses and contact lenses, it can be a disappointment to find out that you are not a candidate for LASIK. However, better vision is still possible. There are several vision correction options available to you at Optima Eye. Refractive and corneal specialist Mark Mandel, MD is committed to providing the best vision options for each unique patient. Ahead, he discusses LASIK alternatives.
Implantable Contact Lenses EVO
Implantable contact lenses EVO (ICLs) are designed to be surgically inserted into the eye, resulting in improved vision with reliable results. This quick procedure, which is excellent for correcting nearsightedness and astigmatism involves placing an extremely soft specialized lens (the ICL) behind the iris and in front of the lens of the eye, where it works without the need for maintenance. Patients undergoing the procedure experience little, if any, discomfort ,and minimal downtime.
Photorefractive Keratectomy PRK
This LASIK alternative is a refractive surgery that uses a specialized laser to correct vision issues by changing the shape of the cornea. A major benefit of photorefractive keratectomy (PRK) is that it can completely reduce your dependence on glasses and contact lenses, making it an alternative to LASIK. The procedure can take as few as 10 minutes and is usually done one eye at a time, with the second eye being treated about 3 weeks after the first. Although both LASIK and PRK have the same objective — clear vision for the patient — a major difference is the absence of a corneal flap in PRK.
Clear Lens Extraction
Clear lens extraction allows patients to receive permanent vision correction in a fast, effective, and customized procedure. The procedure involves the removal of the eye's lens, which is replaced with an intraocular lens (IOL). The procedure is identical to a cataract procedure except that the patient does not have a cataract. The artificial lens comes in many varieties to serve the unique needs of different patients. Monofocal IOLs correct vision at one distance and patients may need to rely on glasses to see clearly at other distances. A common example is a patient that uses a monofocal lens to correct vision at far distances and relies on reading glasses occasionally for up-close work. Multifocal lenses which are the most commonly employed are also a great IOL option and are best for patients who want to correct vision at more than one distance.
Visit Mark Mandel, MD
If you are not a candidate for LASIK, all hope is not lost. You can still experience the same vision-correcting benefits and a life with reduced reliance on glasses and contact lenses. Mark Mandel, MD, is eager to inform you of all of your vision correction options. To get started, contact our office today or schedule an appointment online.