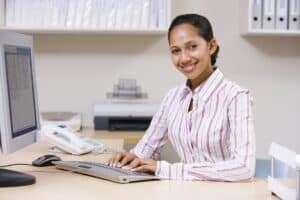 When you think about the benefits of LASIK and other laser vision correction procedures, you probably imagine simple pleasures, like falling asleep without having to remove your contact lenses, or hugging your kids without worrying about breaking your glasses. Perhaps you think about the ease of exercising or playing sports without the hassle of corrective eyewear.
And while there are many simple pleasures of a life free from glasses or contacts, laser vision correction can also help you function at a higher level at work.
Read on as experienced laser eye surgeon Mark Mandel, MD, explains some of the on-the-job benefits of laser vision correction.
Office Workers
Many of Dr. Mandel's laser eye surgery patients work desk jobs that require a lot of computer work. Prior to surgery, they struggle with contacts drying out their eyes and glasses creating aggravating glare from the computer screen.
But by improving vision and reducing or eliminating dependence on corrective eyewear, LASIK can make computer work easier, more comfortable and more productive.
Professional Athletes
Glasses and contacts are also an issue for professional athletes. Glasses can fog up or get sweaty, and there is always the risk of a contact lens popping out on the field. But laser vision correction allows professional athletes (and weekend warriors!) to perform at the highest level possible.
First Responders
In other occupations, glasses and contacts can actually interfere with a person's job duties. For firefighters, law enforcement, paramedics and other medical personnel, time is of the essence. Glasses and contact lenses are the last thing they want to worry about when someone else's safety is on the line. Clear vision without corrective eyewear allows them to respond to an emergency at a moment's notice.
Military Personnel
For members of the military, clear vision is a requirement, not an asset. Poor vision or heavy dependence on corrective eyewear can hinder someone's military career or even disqualify a candidate from certain branches or positions (e.g., pilots, special ops). But clear vision with laser eye surgery can help make the dream of a successful military career become a reality.
Learn More about the Freedoms and Benefits of Laser Vision Correction
The benefits and freedoms provided by laser vision correction extend far beyond your line of work. To learn more about how laser vision correction can improve your quality of life, Mark Mandel, MD, invites you to schedule an informational consultation.
To book a laser vision correction consultation at one of Dr. Mandel's four office locations, please email him or call 877-210-2020 ext. 3 today.