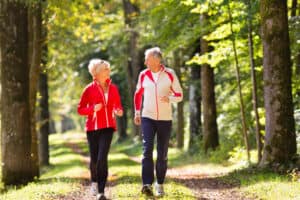 Mark Mandel, MD, of Optima Eye is acutely aware of the ways cataract surgery in the Bay Area can change his patients' lives. A new study from Alcon, which manufactures cataract surgery technology, confirms what Dr. Mandel and his patients already know to be true: cataract surgery can have tremendously positive emotional and physical impacts on a person's life.
Dr. Mandel hopes that by sharing more information about this study, prospective cataract surgery patients can feel confident and excited as they pursue their treatment options.
What Alcon Found
Alcon surveyed 1,300 American adults ages 60 and over who had cataract surgery. The goal was to gather insights into ways that cataracts and cataract surgery affected patients' daily lives and feelings. Participants were specifically asked about the emotional journey and lifestyle benefits of cataract surgery.
When asked about life before cataracts, nearly 60 percent of respondents said they felt annoyed, frustrated and "old" because of their cataracts. Two out of three participants said that cataracts made it difficult to perform daily tasks such as working, driving, watching TV and movies and seeing colors.
In stark contrast, 74 percent of participants said they felt happier after cataract surgery, 76 percent said they felt more satisfied and 68 percent had a greater appreciation for their lives. Eighty-seven percent of survey participants said they felt more independent thanks to clear vision after cataract surgery.
When the study participants were asked whether they would recommend cataract surgery to others, an overwhelming 93 percent said they would advise prospective candidates to have the procedure. Half of participants admitted they didn't realize how much they were missing in their lives until undergoing cataract surgery.
Understanding Your Cataract Surgery Options
If you have been diagnosed with cataracts, you have several options to consider. Dr. Mandel offers both traditional and laser-assisted cataract surgery with the LenSx laser. After removing the cataract, Dr. Mandel can replace the cataract with one of several types of advanced intraocular lenses, each suited to your specific lifestyle and visual needs. The recovery from the procedure is typically short. On the whole, surgery is extremely well tolerated and the outcomes are excellent.
To learn more about cataract surgery with Dr. Mandel, please call Optima Eye at 877-210-2020 ext. 3 today.