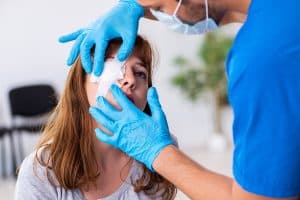 Almost half of all eye injuries occur in and around the home. Most of these accidents can be prevented. To help educate and prevent eye injuries at home, Bay Area corneal specialist Mark Mandel, MD, celebrates Home Eye Safety Month. Here he provides his top tips on how to prevent eye injuries at home.
Avoid Fireworks
Fireworks cause countless injuries, including eye injuries, during the holidays. The best way to avoid these injuries is to avoid fireworks. Even so-called "safe" fireworks can cause burns to the eyes and foreign objects to harm the eyes.
Use Caution in the Kitchen
Patients are urged to use caution in the kitchen. Eye injuries can occur in a number of ways when food is being prepared. One of the most common ways eyes are injured in the kitchen is from hot oil and grease being splattered. You can avoid this with a grease shield or a lid. Protective eyewear may also help keep your eyes safe from splatter.
Another common eye irritant is spicy food. Always wash your hands after handling spicy food and avoid touching your eyes or your face.
Be Careful with Cosmetics
Cosmetics and cosmetic tools can lead to eye injuries. If you are wearing makeup, check the ingredients before applying around your eye area. Be very careful when using mascara wands or tweezers around your eyes. A minor slip of the hand can lead to a serious eye injury.
Wear Safety Glasses or Goggles When Appropriate
Accidents can happen anywhere in and around the house. If you are engaged in any of the following activities, then you should wear safety glasses or goggles:
Cleaning with or using chemicals
Doing yard work (including mowing the lawn)
Woodworking
Prevent Age-Related Falls
Falls are a leading cause of eye injuries. As patients age, their risk for falls increases. While not all falls can be prevented, you can take steps to decrease your risk of falls by doing the following around your house:
Keep the floor clean and clear to reduce tripping hazards.
Secure rugs and carpets to the floor.
Install handrails in the bathroom and around stairs.
Use nightlights to prevent tripping in the dark.
Wear non-slip socks and shoes.
Install non-slip barriers in the bathroom and around stairs.
Avoid Non-Prescription Contact Lenses
Non-prescription costume contact lenses are popular, especially during Halloween. Unfortunately, these types of contact lenses can also seriously damage your eyes. Avoid the risk and consider alternate ways to win a costume contest.
Select the Best Ophthalmologist in the Bay Area
Bay Area corneal specialist Mark Mandel, MD, has years of experience treating patients who have suffered eye injuries. He relies on his expertise combined with the latest technology to give patients the best opportunity to achieve clear vision. Schedule a personal consultation with the best ophthalmologist in the Bay Area by emailing or calling 877-210-2020 ext. 3 today.