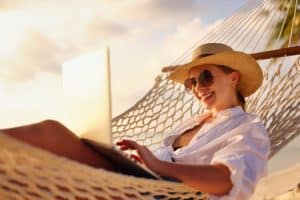 Warm weather often serves as an invitation to head outdoors and soak up the sun. While many people remember to wear sunscreen to protect their skin, many often forget that the eyes need protection from the sun as well. Unprotected sun exposure can pose some serious health risks that can impact the eyes for years to come. Mark Mandel, MD explains the best ways to protect your eyes this summer.
Avoid Harsh Sunlight
Too much sun exposure can put you at risk for many serious conditions that can threaten your vision.
Cataracts: Although there is no way to prevent cataracts, your risk of developing cataracts increases with increased sun exposure.
Pterygium: Also known as surfer's eye, the condition is characterized by a growth on the eye that often spreads and begins to cover the cornea, affecting vision. Exposure to UV light may be partly responsible for this condition.
Sunburned eyes: Eye sunburn is a painful eye condition that results from unprotected UV exposure. Bright sunlight can reflect off certain surfaces, such as water or sand, which results in damage, temporary vision loss, blurry vision, and eye irritation.
Wear The Right Sunglasses
When it comes to selecting the right sunglasses, UV protection should be at the top of the list. Reputable eyewear brands will have conspicuously placed labels on their sunglasses that indicate if they contain UV protection. Look for glasses with 100% UV protection for optimal safety. Consider using oversized or wraparound sunglasses for added protection.
Use Protective Eyewear
For many, the summer months are associated with regular yard work and home improvement projects. Using a lawnmower, weed eater, or other yard equipment can result in objects such as stones, and twigs flying up and causing injury to the eye. Use properly fitted protective eyewear this summer to reduce your risk of damage from harmful debris. Additionally, protective eyewear can ensure your eyes are safe from harsh chemicals while tackling home improvement projects this summer.
Don't Forget Your Hat
Even when wearing sunglasses, sunlight can enter from above and sides, which can still leave your eyes partially exposed to harmful UV light. Wearing a wide-brimmed hat in addition to sunglasses can enhance your protection and ensure you are covered from all angles this summer.
Protecting Your Vision This Summer
If you fear your eyes may have been damaged from sun exposure, contact Mark Mandel, MD for a consultation as soon as possible by scheduling an appointment online or calling one of our locations today.