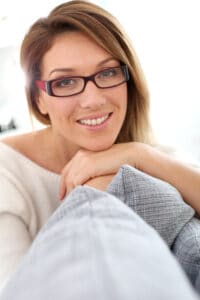 Choosing to undergo LASIK surgery is an exciting and potentially life-changing decision. LASIK and corneal specialist Mark Mandel, M.D., of Optima Eye has dedicated his career to educating patients so they can make the most informed decision possible when it comes to safely enhancing their vision. Dr. Mandel has compiled the following list of questions all patients should consider before undergoing LASIK.
What Are my Visual Needs?
Am I unhappy with the way I look and feel when wearing glasses?
Do glasses or contacts get in the way of my favorite activities (e.g., sports)? LASIK can make everyday activities easier and more enjoyable.
How high is my vision prescription? Extremely high levels of refractive error may not work well with LASIK, but can be treated with other vision correction options.
Do I suffer from other eye conditions besides poor vision? Eye conditions such as lazy eye cannot be treated with LASIK.
Am I a LASIK Candidate?
Am I in good health overall? Certain health conditions can affect how you heal from LASIK surgery.
Are my eyes healthy? Certain eye condition may disqualify you from LASIK.
Has my prescription changed in the last year? Your prescription must be stable for at least 12 months prior to LASIK surgery.
Are my pupils extremely large or my corneas very thin? Patients with such conditions may be unsuitable for LASIK but eligible for an alternative procedure such as PRK or implantable contact lens (IOL).
What Is LASIK?
What can I expect during the procedure? Familiarize yourself with LASIK by visiting Dr. Mandel's website ahead of time.
Do I understand the risks and possible complications of LASIK? There are potential complications from any surgery (complications from LASIK are rare).
Am I aware of what to expect during the LASIK recovery period? Careful post-op care is crucial for your vision results.
Have I spoken to friends/family who have had LASIK? Ask for a referral from someone you trust or your regular eye care practitioner.
Have I spoken to a LASIK surgeon who is a fellowship-trained corneal specialist? Ultimately, it is best to see a corneal specialist to determine whether you are eligible for LASIK.
Keep in mind that these questions are to be used only as a starting point in your decision to undergo LASIK. To find out if LASIK is right for you, schedule a personal consultation with Mark Mandel, M.D. Please email us at mmandel@optimaeye.com.