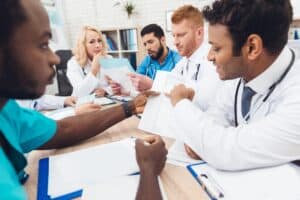 The chances of achieving satisfying LASIK outcomes increase exponentially when you select the right surgeon to perform the procedure. According to Mark Mandel, MD, a cornea specialist and laser eye surgeon serving the Bay Area, the success of your surgery depends on the experience and skills of your surgeon.
Sometimes red flags come up in the consultation process that serve as a warning that the surgeon is not the right one for you. As you look for LASIK surgeons in your area, be on the lookout for the following red flags:
The surgeon is not a board-certified ophthalmologist.
Beyond having a license to practice medicine, your laser eye surgeon should be certified by the American Board of Ophthalmology, which is the only certifying board for doctors specializing in ophthalmology. Board certification indicates that the surgeon has completed specific training and continuing education within their specialty.
The surgeon does not perform LASIK regularly.
You should get an idea of how long the surgeon has been performing LASIK, how many procedures they have performed in their career and how often they perform the surgery. A doctor that performs LASIK once or twice a month doesn't have the same competency as someone that performs it hundreds of times a month.
Communication is poor.
Great LASIK surgeons and their staff take the time to explain the surgery in great detail (in easy-to-understand language) and answer all of your questions. If a surgeon appears unwilling to answer your questions or rushes you through the appointment, that surgeon is not the one for you.
The surgeon promises perfection.
Another huge red flag is that the surgeon promises perfect results and glosses over the very real risks of surgery. Although the chances of complications are low when surgery is performed by an experienced surgeon, the procedure is not risk-free. Any reputable surgeon will explain the possible complications and help you weigh the potential risks against the benefits.
You feel pressured to make a decision quickly.
Having any elective surgery is a big decision, and trustworthy LASIK surgeons and their staff understand that. You should never feel pressured to decide quickly whether you want to move forward with surgery.
The price seems too good to be true.
Price is an important criterion but not more important than the skill and experience of the surgeon. If the price seems too good to be true, it could be meant to deflect from the surgeon's lack of expertise or outdated technology. Paying rock bottom prices for LASIK could actually require you to spend more money in the long run correcting the results.
Book a Consultation with Mark Mandel, MD
To book a laser vision correction consultation at one of Dr. Mandel's four office locations, please email him or call 877-210-2020 ext. 3 today.