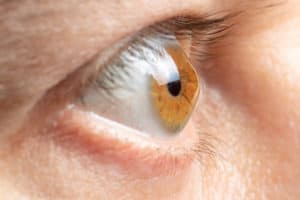 Affecting about one out of every 2,000 people, keratoconus is a condition in which the cornea gets thinner and progressively bulges outward into a conical shape. While the exact cause of keratoconus is unknown, eye doctors are sure that its consequences can be devastating. In this blog, Bay Area LASIK and corneal specialist Mark Mandel, MD, of Optima Eye warns patients about the dangers of ignoring keratoconus. He implores them to seek treatment so that they can save their corneas.
Consequences of Keratoconus
Before noticing your eye bulge, you may pick up more subtle symptoms of keratoconus like blurry or distorted vision or a growing sensitivity to light. In keratoconus' early stages, any nearsightedness or astigmatism that results from this corneal irregularity can be corrected with glasses or contact lenses.
Over time, however, you will find that your vision gets progressively worse. Moreover, your eye may bulge to the extent that it can no longer comfortably wear a traditional contact lens. If no intervention is sought, you may lose vision to the point that you become legally blind. Understandably, you may also suffer some emotional distress from no longer being able to see.
In its late stages, the only way to overcome the impairment posed by keratoconus is to undergo a complete corneal transplant. Although this procedure will restore your vision, you will need at least a year of rehabilitation after surgery to see properly again. Accordingly, corneal transplant should be considered a last resort rather than the best option.
Available Treatments
Fortunately, there are interventions you can seek long before serious vision loss occurs. iLink corneal cross-linking is a minimally invasive treatment that has proven highly effective at either slowing or stopping keratoconus in its tracks. The procedure involves putting sterile riboflavin (vitamin B2) drops  into the eye and stiffening the cornea using ultraviolet light.
Optima Eye also offers Intacs to patients with keratoconus. While Intacs will not stop or slow the progression of keratoconus like corneal cross-linking can, it does help to recontour the bulge of the cornea. Once a more normal shape has been restored, it will become easier for your eye to wear contact lenses and continue to see properly.
Discuss Keratoconus Options
Now that you are aware of the consequences of not seeking treatment for keratoconus, the reasons to act as early as possible should be clear. Known for his professionalism and outstanding results, Bay Area corneal and LASIK specialist Mark Mandel, MD, is available to help preserve your vision despite keratoconus. For an appointment, please email or call 877-210-2020 ext. 3 today.