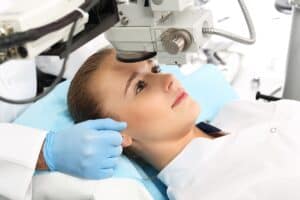 Many people considering LASIK don't realize that there are several different types of laser vision correction to suit different visual needs. If you are interested in LASIK, you should be well informed about your options before making any decisions about your care. Here, Bay Area LASIK specialist Mark Mandel, MD, provides an overview of the laser vision correction options available at Optima Eye.
Traditional LASIK
Traditional LASIK involves creating a flap in the cornea with a mechanical cutting instrument called a microkeratome. After folding back the flap, the exposed underlying tissue is reshaped with an excimer laser. The flap is then restored to its original position, where it heals on its own. This is rarely used anymore as All-Laser LASIK is the safer and preferred method.
All-Laser LASIK
All-laser or bladeless LASIK replaces the microkeratome with a femtosecond laser. Using a laser to create the corneal flap reduces some of the risk of flap-related complications. The excimer laser is then used to reshape the corneal tissue as it is in traditional LASIK.
May be right for you if:
You want to improve upon the safety and precision of traditional LASIK and eliminate some chance of human error.
Wavefront LASIK
Wavefront-guided LASIK is one of the most advanced forms of LASIK. Treatment is tailored to the eye's microscopic imperfections for extraordinary visual outcomes. Wavefront LASIK can decrease the possibility of glare and halos following the laser procedure.
May be right for you if:
You want the highest quality vision with the fewest side effects after surgery.
Advanced Surface Procedures
Advanced surface procedures like PRK, LASEK and Epi-LASIK reshape the corneal tissue without creating the corneal flap. The surface cells (epithelium) are polished off of the surface of the eye and the laser is applied to the cornea without making a flap.
May be right for you if:
You have thin or irregular corneas that cannot withstand the creation of the corneal flap.
Contact Optima Eye
Ultimately, the laser procedure that is best for you and your visual needs will depend on an in-person evaluation and discussion with Dr. Mandel. To book an appointment to discuss laser vision correction, please call 877-210-2020 ext. 3 or send us an email.