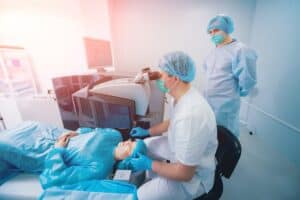 Working with a qualified LASIK surgeon is the best thing you can do to ensure that your laser vision correction procedure is both safe and successful. If you have just begun your search, you may be wondering what one factor matters most when picking your LASIK surgeon. The truth is that there are several factors you need to consider and qualifications your LASIK surgeon must possess.
Mark Mandel, MD, Bay Area cornea and LASIK specialist, discusses these qualifications in this blog post.
Education and Training
First and foremost, your LASIK surgeon must have completed the proper education and training to safely perform laser vision correction. Select a surgeon who is certified by the American Board of Ophthalmology. Board-certified LASIK surgeons have graduated from an accredited medical school, completed years of surgical training and regularly take continuing courses to stay on top of the latest advances in laser vision correction.  Preferably, the surgeon is a fellowship-trained corneal specialist.
Membership to professional organizations like the American Academy of Ophthalmology are good indicators that the surgeon possesses the expertise needed to perform complex laser vision correction procedures.
State-of-the-Art Technology
Technology is constantly evolving. Innovative technologies like All-laser LASIK and wavefront LASIK allow surgeons to customize treatment to be more precise and accurate. A great LASIK surgeon invests in the latest technology and innovations in order to provide a safe patient experience and excellent visual results. Femtosecond laser flaps help to ensure a safer outcome. The latest wavefront lasers with the latest software upgrades are essential.
Transparency
Great LASIK surgeons possess not only great technical training and experience, but also communication skills. Your surgeon should take the time to thoroughly answer all of your questions and concerns. He or she should also set reasonable expectations about your procedure and the results. In other words, your surgeon (and his or her staff) should be completely transparent with you about what to expect before, during and after your LASIK surgery. They should also not try to pressure you into having surgery or making premature decisions in regards to your surgery and care.
Learn More about Mark Mandel, MD
Mark Mandel, MD, is a renowned laser vision correction surgeon and cornea specialist who has performed over 70,000 laser vision procedures. Voted one of Castle Connolly's Top Doctors, Dr. Mandel and his team are known for world-class patient care. If you would like to learn more about LASIK or the other laser vision correction procedures he offers, such as the ICL for high degrees of myopia, contact Optima Eye. You can schedule an appointment at one of our four office locations by emailing us or calling 877-210-2020 ext. 3 today.