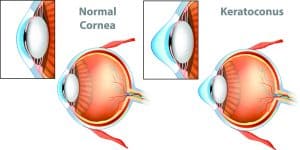 Keratoconus is a non-inflammatory eye condition that warps the corneal shape into a dome, causing the tissue to weaken and bulge like a cone. People with keratoconus struggle to see clearly, and treatments are offered to slow the progression and improve the corneal shape. iLink™ corneal cross-linking is a minimally invasive outpatient procedure that gives patients new hope for better vision with keratoconus. The process combines UV light and a unique formula of riboflavin (vitamin B2) eye drops to stiffen and strengthen the collagen fibers in the cornea.
Who Is a Candidate for Corneal Cross-Linking?
Corneal cross-linking is a standard treatment for progressive keratoconus and corneal ectasia after refractive surgery. Ectasia happens when the cornea's inner layers weaken, pushing the corneal tissue forward to form a cone. The best candidates for cross-linking have progressive ectasia from keratoconus or refractive surgery that causes vision changes. People may struggle to see clearly with corrective eyewear, and contact lenses are challenging to use due to the abnormal corneal shape caused by keratoconus.
People may not qualify for the procedure if they have thin corneas, current infection, autoimmune disorders, severe dry eye or a history of poor epithelial wound healing or scarring. Corneal cross-linking is best used for progressive keratoconus. Many patients develop the condition early in life, and keratoconus can progress well into their 30s and 40s before stabilizing. Corneal cross-linking candidates most often qualify in their teen years to halt the progression of the protrusion of the cornea. Crosslinking does not cure keratoconus or improve vision. It is used to effectively halt the progression of the condition.
Keratoconus Treatment at Optima Eye Care
Mark Mandel, MD, a fellowship trained corneal transplant surgeon is known as the "Doctor's Doctor" throughout the Bay area because he is the preferred eye surgeon to perform surgeries on other physicians, their families and office staff. Thousands of patients trust him to help them see better every year through laser cataract surgery, LASIK surgery and keratoconus treatment.
Dr. Mandel also offers Intacs™ for keratoconus management. These semi-circular segments are implanted into the cornea to alter its shape and improve vision. Intacs™ are reversible and can give patients a more comfortable contact lens experience. Corneal cross-linking and Intacs are effective procedures for keratoconus, and Dr. Mandel can help determine which treatment is best for your circumstances.
Learn more about keratoconus and corneal cross-linking by scheduling an eye exam and consultation with Dr. Mandel today. Contact Dr. Mandel in San Jose, Concord, Castro Valley and Hayward, California, at (877) 210-2020 ext 3 or fill out our online contact form.