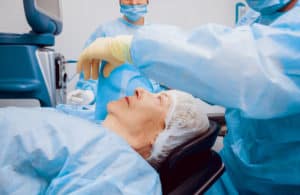 Cataracts are a visual impairment characterized by a clouding of the eye's lens. While most cataracts go hand in hand with aging, others can result from an eye injury, a previous eye procedure or other causes.
Cataracts are frustrating for anyone who has them, as symptoms can include:
Poor distant or near vision
Sensitivity to light
Rings around lighted objects
Seeing objects as different or with less color
Double vision
There are several treatments available for cataracts, but laser cataract surgery has fast become the gold standard. Here Bay Area LASIK and cornea specialist Mark Mandel, MD explains why many patients prefer laser cataract surgery.
Treatment for Cataracts
While cataracts are the No. 1 cause of blindness worldwide, when they are treated, vision is restored. In fact, corrective treatments for cataracts are 99 percent successful.
Furthermore, recovery is fairly simple and quick, and complications are rare.
When cataracts are severe enough that glasses no longer work or your daily life is interrupted, surgery is the only corrective option, as there are no prescriptions to solve this issue.
Once the cloudy lens has been removed, the doctor will then insert an artificial lens — or intraocular lens. Whichever lens you choose in tandem with your doctor, the idea is for your vision to become clearer, sharper and more vibrant.
Bay Area LASIK and cornea specialist Mark Mandel MD and his team are experts in using the latest laser technology to help remove your cataracts. Dr. Mandel prefers this technology as there are a few benefits. Laser–assisted surgery helps the surgeon make incisions more accurately. Also, laser surgery may offer the patient more precise correction of astigmatism and allows for more precise positioning of the lens implant.
Dr. Mandel and his team have the latest bladeless and laser technology — the LenSx femtosecond cataract laser — at their fingertips to perform this leading cataract corrective surgery, customized to benefit each patient. Call 877-210-2020 or visit our site now to learn more — or to schedule a consultation.