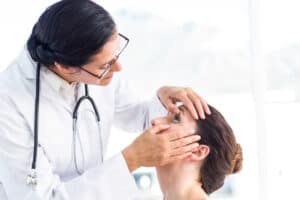 Photorefractive keratectomy (PRK) is a laser eye surgery procedure that corrects nearsightedness, farsightedness and astigmatism. PRK is similar to LASIK in that the same Wavefront laser is used for the treatment, however, there is no LASIK flap. Accordingly, the recovery is quite different. In this post, Bay Area vision specialist Mark Mandel, MD, describes what patients can expect from PRK.
PRK is performed for those individuals who are not candidates for LASIK either because the cornea is too thin, or the patient prefers not to have a LASIK flap because it might interfere with work or everyday activities.
The Surgical Procedure
Most PRK patients opt to have the surgery performed on one eye at a time. One eye is treated and then four to five weeks later, the second eye is treated. In rare cases, both eyes could be treated the same day.
On the day of surgery, your eye will be numbed with powerful anesthetic eye drops. Dr. Mandel will start by loosening and removing the surface cells of your cornea, known as the epithelial cells. Then, he will use the Wavefront excimer laser to reshape the cornea in the same manner he does in the LASIK procedure. When Dr. Mandel is finished making the surgical modifications, he will place medicated eye drops and a bandage contact lens in your eye.
Right after Surgery
After the procedure, you will be escorted to a recovery area and monitored for a short period of time. Then, you will be released to go home, where you should rest for the remainder of the day. Special eye drops and artificial tears will be prescribed with instructions to use them several times a day.
The Next Few Days
You can return to work the day after PRK surgery. Over the first week to 10 days, the epithelial layer of your cornea will regenerate. Special eye drops and oral medications will help control any discomfort. Your vision will be blurry and you will experience minor symptoms like a gritty sensation in your eye, sensitivity to light and redness.
You will have a follow-up appointment scheduled the day after surgery and throughout the first week. The bandage contact lens is removed about a week after the procedure.
The Following Few Weeks
Your vision should continue to improve over the ensuing four to five weeks depending upon individual healing properties and your initial glasses prescription. You will be followed over the ensuing year to monitor your healing. If an enhancement (touch-up) is required, this will be performed without charge approximately eight to 12 months postoperatively.
Trusting the right laser eye surgeon to perform your PRK surgery makes the entire process smoother. To set up an evaluation with Dr. Mandel for laser vision correction and discuss your situation in more detail, please contact Optima Eye by calling 877-210-2020 ext. 3 today.