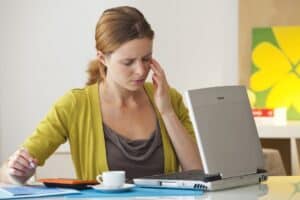 People with dry eye have more than itchy, irritated red eyes to worry about. According to a recent study, those with dry eye report an overall lower quality of life. In addition, the group of over 1,000 dry eye patients report that they have difficulty performing everyday tasks and have higher levels of anxiety and worse overall health than individuals without dry eye.
Mark Mandel, MD, Bay Area eye surgeon and dry eye specialist, discusses the study's findings in this blog post.
Dry Eye and Everyday Tasks
The study, conducted by prescription dry eye drop manufacturer Shire, asked dry eye patients to complete questionnaires that assessed their perceptions of their visual health and overall health. The answers were compared to the responses of people without dry eye.
Dry eye patients found it harder to perform simple, everyday tasks than the control group. These tasks include getting dressed and using a computer. The latter makes sense, as spending hours upon hours looking at computer screens can lead one to blink less frequently, which in turn can lead to dry eye.
Dry Eye and Overall Health
Dry eye patients reported experiencing anxiety, depression and worse overall health than individuals without dry eye. They also reported having a harder time establishing relationships with other people due to the bothersome symptoms of dry eye (e.g., red eyes, irritation, blurry vision). Since dry eye is often a chronic condition, many individuals who struggle with the eye condition may become discouraged about finding relief and may experience a lower quality of life than those without symptoms.
What To Do About Dry Eye
Dry eye is a common yet treatable condition. At Optima Eye, Dr. Mandel has helped many individuals with dry eye overcome their symptoms and find relief. The best treatment option depends on the individual's specific symptoms and the root cause of the condition. If you're experiencing dry eye and a lower quality of life as a result of it, Dr. Mandel can meet with you personally to evaluate your case and recommend an appropriate treatment plan. Among the treatment options he may recommend are artificial tears, anti-inflammatory drops, omega 3 oral supplements and punctal plugs, all of which may provide temporary relief. For potential longer-term relief, he may recommend LipiFlow, a revolutionary in-office treatment that restores the natural production of oils for long-term lubrication and dry eye relief.
Whether you experience temporary or chronic dry eye, let Dr. Mandel help. Schedule an appointment at one of our four office locations by emailing us or calling 877-210-2020 ext. 3 today.