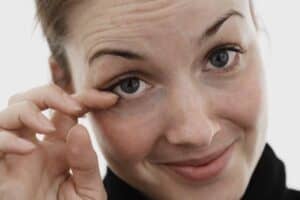 An eye twitch, or myokymia, occurs when eyelid muscle contractions cause the eyelid to spasm uncontrollably for several seconds or minutes. Eye twitching is common and usually harmless. However, if you have ever experienced an eye twitch, or several of them, you know the feeling can be bothersome, especially if you don't know what is causing the eye twitch. Here, LASIK eye surgeon Mark R. Mandel, MD discusses the causes and cures of an eye twitch.
What Causes an Eye Twitch?
An eye twitch can be triggered by several factors. Stress causes epinephrine to arouse the muscles in the body, sometimes leading to eyelid contractions. Too much caffeine can also cause an eye twitch because it stimulates the muscles and nerves. Computer eye strain from overuse of computers and smartphones can cause vision-related stress, which in turn can trigger an eye twitch. Lack of sleep and certain medications caused by changes in vision are also common causes of an eye twitch.
Can an Eye Twitch Be a Symptom of a Serious Condition?
Although rare, an eye twitch can be a symptom of other eye conditions. An eye twitch can accompany blepharitis, an inflammation of the eyelids caused by bacteria. An eye twitch can also be a symptom of dry eyes or pink eye. Neurological disorders such as blepharospasm or hemifacial spasm can cause more serious forms of eye twitching.
In even rarer cases, an eye twitch can be a symptom of a brain nerve disorder, such as Bell's palsy or Parkinson's disease. In these cases, other symptoms will usually accompany an eye twitch. If an eye twitch persists, see your eye doctor to see if it's a sign of a more serious medical problem.
How Can I Cure an Eye Twitch?
Benign eye twitches can usually be cured by making changes to lifestyle habits such as:
Get a full night's sleep
Limit caffeine and alcohol intake
Minimize your use of digital devices (i.e., computer, smartphone)
Participate in daily stress relief activities (i.e., exercise)
Use eye drops or artificial tears to keep eyes lubricated
Schedule regular eye exams
The best way to keep your eyes healthy is by having regular eye exams with an experienced eye doctor. A comprehensive eye exam can address vision changes that can cause an eye twitch. Call your optometrist to schedule an appointment.