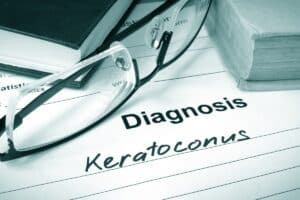 LASIK is a laser vision correction procedure that reshapes the cornea to correct refractive errors such as nearsightedness, farsightedness and astigmatism. During the reshaping of the cornea, some corneal tissue is removed, making the cornea thinner. As a result, LASIK is absolutely contraindicated for individuals with keratoconus, an eye condition characterized by thinning of the cornea.
Bay Area Corneal specialist and LASIK surgeon, Mark Mandel, MD, explains more in this blog post.
Understanding Keratoconus
Keratoconus is a progressive degenerative corneal condition. It causes the normally round cornea to thin and bulge into a cone-like shape. This in turn deflects light as it enters the eye on its way to the retina, distorting vision. As the bulging of the cornea worsens, nearsightedness and irregular astigmatism can occur. In addition to blurred vision, keratoconus can result in glare and light sensitivity.
Why Keratoconus May Disqualify You from Having LASIK
Keratoconus weakens the cornea, and having LASIK can weaken an eye with keratoconus even further.
Treating Keratoconus with Intacs and Collagen Crosslinking
Fortunately there are several treatment options available for individuals with keratoconus. Keratoconus can be effectively treated with prescription eyewear such as glasses for milder cases and contact lenses for more advanced cases. But as the condition worsens, more advanced treatments are needed. Cornea specialist Mark Mandel MD is pleased to offer Intacs, which are FDA-approved clear, arc-shaped corneal inserts that are surgically inserted within the peripheral cornea to flatten and reshape the front surface of the eye. In addition to treating keratoconus, Intacs can be used to treat induced ectasia after LASIK surgery. It's important to note that Intacs do not cure keratoconus or LASIK-induced ectasia or halt their progression. It can, however, make it easier to wear contact lenses to correct nearsightedness, farsightedness or astigmatism.
Collagen crosslinking is an FDA-approved procedure that uses vitamin B drops and an ultraviolet light to strengthen the cornea and halt the progression of the condition. It is extremely effective in stopping the progression and should be used as soon as keratoconus is diagnosed (especially in children and teens).
Corneal specialist Mark Mandel, MD, can discuss your treatment options in detail upon meeting with you and evaluating your case. To schedule a personal consultation, contact Optima Eye by emailing us or calling 877-210-2020 ext. 3 today.